Answers to 5 Important Dental Insurance Questions
Dental insurance can serve many patients searching for affordable care.  Affordable dental care is equally important as quality dental care.  While it can be beneficial for patients with minimal dental treatment needs to self insure, others prefer the security of dental insurance to pay for dental emergencies and more significant dental care like root canals and crowns.
Important Dental Insurance Questions
Does dental insurance cover everything?
Some people believe that if their dental insurance does not provide coverage for a specific dental procedure, then they must not need it or believe it isn't important.  Not having insurance doesn't make your teeth less important or necessary for health, social/career success, or self-confidence. Dental insurance is a good thing if you don't let the insurance company make your health decisions for you, or think that without it you can't afford dental care.
What will my dental insurance cover?
Some insurance companies may pay a fixed amount, while others pay a percentage of pre-determined treatment limits. Plans that claim to or actually do pay the entire dental bill often do so because of agreements that discount services, or offer low quality or cheaper treatment.
What dental services are covered? Which aren't?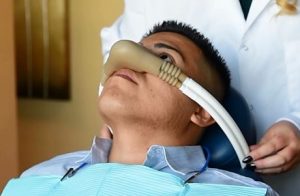 Like any other insurance, your insurance coverage is only as good as the policy that was purchased. Many people are surprised to discover that many dental services are not covered. If you are unhappy with the amount or limits of your coverage, it is best to discuss this with either your employer or insurance company.Many insurances do not cover sedation dental procedures like nitrous oxide.
Why won't my insurance pay more?
All dental insurance plans have an "Annual Maximum" that typically ranges from $1,000 – $1,500 per year. The insurance will not pay out more than this annual limit. However, if these benefits are not used within the year, then they will not roll over unto the next year's benefits.
Who is responsible for payment?
When you consent to dental care, you are also accepting the direct responsibility for paying the bill, regardless of a third-party company.  Some dental offices complete and send insurance claims as a courtesy to their patients.  Everything submitted to the dental office on behalf of the insurance company in regards to coverage, is an estimation and any and all balances due after insurance payment is received is the patient's responsibility.If you're ready to restore your teeth to a healthy, pain free smile, give us a call to schedule a consultation 
(303) 524-9343
.  We accept dental insurance including: Delta Dental, MetLife, Aetna and other insurance plans.  We also offer dental financing through Care Credit.