Cigna PPO Endodontist Root Canal
Cigna PPO Endodontist
Are you looking for a Cigna PPO Endodontist?  Cigna Preferred Provider Organization (PPO) is a type of dental health plan that offers a larger network so you have more dentists and dental offices to choose from. Your out-of-pocket costs are usually higher with a PPO plan than with an HMO or EPO plan. Paying a higher higher monthly premium for a PPO plan provides you more choice and flexibility in choosing your dentist. There are many reasons to use an in-network Cigna PPO Endodontist, and we will show you how it helped Erika to relieve her pain and improve her oral health.
Referral to a Cigna PPO Endodontist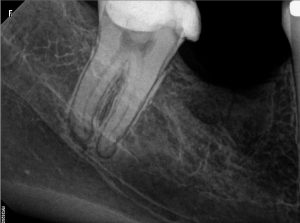 Erika had a large cavity on her molar tooth and part of her tooth had chipped off.  Her molar tooth was tender to chewing and very sensitive to cold drinks.  Her tooth pain interfered with her daily life and made it difficult to sleep.  Erika was seen by Dr. Brightside at Brightside Dentistry as an emergency patient.  Dr. Brightside temporized Erika's tooth with a composite restoration and referred her to our office to complete root canal treatment.  At her consultation appointment, we tested her tooth with cold to verify her symptoms and verified that her molar was the painful tooth.
During Erika's consultation, we also discussed her anxiety with dental work and decided that we would complete her root canal treatment under nitrous oxide sedation.
Save Money with an In-Network Cigna PPO Endodontist
After determining Erika's need for a root canal with dental sedation, we provided a detailed treatment plan showing her insurance coverage and out-of-pocket costs.  By using an in-network endodontist, Erika save over 29% on her root canal treatment.
What is the difference between In-Network and Out-of-Network(Accepting)?
"In-network" dentists have contracted with your insurance company to accept a negotiated ,discounted rate for service. You will typically pay less with an in-network provider. "Out-of-network" providers have not agreed to the discounted rates.
What If Your Dentist is Out-of-Network?
The most common reason a dental will choose not to contract with an insurance company is low reimbursement rates, which means the fees approved by the insurance company are lower than what the dental office is willing to accept.  In many cases, a dental office will "Accept" your insurance benefits as partial payment for your bill, but they will not discount the treatment cost.  In this case, the patient is responsible to pay the difference in fees.  This difference in fees can be expensive.
Treatment with a Cigna PPO Endodontist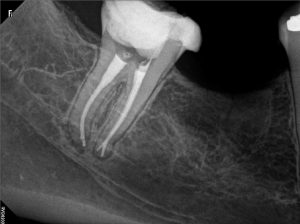 Erika worked with Dr. Andrew Stubbs, a Cigna PPO Endodontist,  for her root canal treatment.  First, Dr. Stubbs used nitrous oxide sedation to relieve Erika's dental anxiety.  After numbing the tooth with local anestheia, Dr. Stubbs removed the tissue and bacteria from inside the tooth.  As a trained endodontist, Dr. Stubbs used a dental microscope to insure that all of the canals were isolated.  Dr. Stubbs also uses advance rotary instruments to shape the canals in the tooth.  The canals were disinfected and filled with gutta percha.  After treatment, Dr. Stubbs temporized the the tooth and Erika set an appointment to have a permanent crown placed with her general dentist, Dr. Brightside.