Save $$$ Using an In-Network Endodontist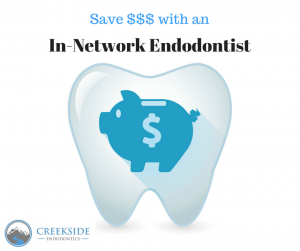 Choosing an In-Network Endodontist to complete your root canal is an important decision that can have significant financial implications.  It is very important to understand the difference between dental offices that are an "In-Network" with your dental insurance company and a dental office that only "Accepts" your insurance.  This simple difference can increase your out-of-pocket expenses by hundreds of dollars.
What is the Difference Between an In-Network Endodontist and an "Accepting" Dental Practice?
IN-NETWORK ENDODONTIST:
"In-Network (Participating)" means that the dental office has a contractual relationship with the insurance company and that the dentist must charge what the insurance company tells them to charge and nothing more.
For example: Let's say that a dentist's fee for aroot canal is $1200.00 but the insurance company says that the dentist can only charge $750.00. The dentist must discount his normal fee to $850.00. Depending on the policy, out of that $850.00, the insurance company might pay half($425.00) and the patient might pay half($425.00).
ACCEPTING ENDODONTIST:
"Accepting" means the dental office will accept or allow that type of insurance to be used as payment.Example: Let's compare the case of a root canal. The normal price that the dentist would charge for a root canal is $1200.00. The insurance company says that it will pay $425.00 of the root canal procedure. The patient is responsible for the remaining $775.00
In this example, the patient would pay an extra $350 to be treated by the office that simply "Accepts" their dental insurance.  The financial benefits of seeking treatment with an In-Network dental office is obvious.
When discussing how dental offices participate with your insurance, it is important to ask if they are In-Network Endodontist or if they simply "Accept" your insurance.
We are In-Network Specialists with:
Delta Dental Premier
Delta Dental PPO
Met Life
Anthem Blue Cross Blue Shield
Ameritas
Humana
Connection Dental
Assurant
GEHA
Cigna PPO
Please contact us if you have any questions or concerns regarding your first visit. (303) 524-9343
Please bring your insurance information with you to the consultation so that we can expedite reimbursement.